2023 Porsche Taycan Cross Turismo Model Review with Prices, Photos, & Specs

2023 Porsche Taycan Cross Turismo
Key Features
Starting at $90,900 MSRP*
All-Electric Powertrain featuring Two Permanent Magnet Synchronous Motors with 93.4 kWh Performance Battery Plus and Two-Speed Transmission
Overboost Power with Launch Control up to 469 HP (Taycan Cross Turismo), 562 HP (Taycan 4S Cross Turismo), 670 HP (Taycan Turbo Cross Turismo), or 750 HP (Taycan Turbo S Cross Turismo)
Mobile Charger Plus with 9.6 kW (standard), 3 years of Electrify America DC Fast charging, and Porsche Charging Service (App) – 3 years included
Porsche Connect featuring available Porsche Intelligent Range Manager, Charging Planner, Route Monitor, as well as Apple CarPlay and Android Auto integration
Porsche Communication Management (PCM) with 10.9-inch central display, 8.4-inch center console control panel, and optional rear 5.9-inch touchscreen display
Optional Burmester® 3D High-End Surround Sound System
Cross Turismo-specific exterior features: lower valence, side skirts, slatted rear diffuser, and wheel arch cover
About the Porsche Taycan Cross Turismo
Combining an untamed spirit with precision-crafted performance, the all-electric Porsche Taycan Cross Turismo is the perfect companion to driving enthusiasts who also live active lifestyles. Complementing its attractive appearance is a practical rear liftgate configuration, boosting everyday usability. Joining the growing lineup of Porsche E-performance vehicles, the Taycan Cross Turismo is powered by a sophisticated all-electric powertrain featuring two permanent magnet synchronous motors, 93.4 kWh Performance Battery Plus, and a two-speed transmission. You'll have access to a collection of charging solutions to help you get where you need to be quickly and conveniently.
The same groundbreaking innovations that power the Porsche Taycan Cross Turismo can be found inside the interior as well. Showcased in the center of the dash is a remarkable free-standing 16.8-inch curved display with customizable readouts. Standard Porsche Communication Management (PCM) serves as your centralized hub for all of your favorite apps and media. Another subtle indication of how driving a Taycan Cross Turismo benefits our environment, the interior comes standard with Race-Tex leather-free upholstery.
"Based on its sibling's impressiveness and our experience with a prototype Cross Turismo Turbo S, the Taycan wagon will have blistering-fast acceleration and the driving behavior of a sports car. Of course, the Taycan's notable 800-volt architecture and fast-charging capabilities also apply here. Its cabin mirrors the high-class and high-tech space inside its sedan counterpart, but the wagon provides additional passenger room and increased cargo space." — Car and Driver
"The Porsche Taycan Cross Turismo wagon is here, and even though it's pretty much exactly what we expected, it isn't any less cool. Previewed by 2018's concept car and lots of recent teasers, the Cross Turismo has a fabulous wagon roofline with a hatchback rear, added practicality and more ground clearance for that all-important crossover vibe while still retaining the Taycan's superb goodness." — Roadshow by CNET
There have been a number of changes for 2023. Things like a faster and more colorful infotainment system, and Android Auto that now works wirelessly. But the big news is that the battery can now be preconditioned to bring it up to charging temp for use with DC fast chargers. So it will be able to hit that 270 kWh charging, which is already some of the fastest of any EV, sooner. And when searching for a charging station, you can now sort by output, making it easier to find those DC fast charging stations that let you take advantage of those unbelievably quick charging times.
Porsche Taycan Cross Turismo Features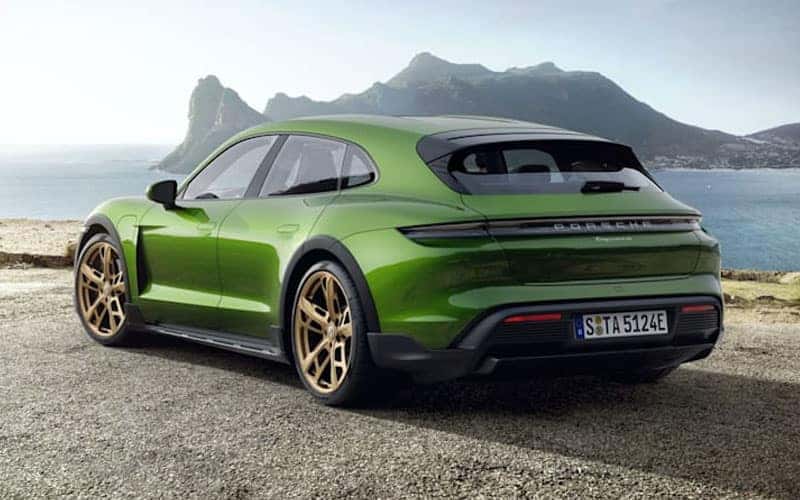 Adventurous Styling
Sculpted with a combination of youthful exuberance and everyday usability in mind, the striking exterior appearance of the Porsche Taycan Cross Turismo is equally as stylish as it is practical. While the lineage to its Tacan sedan sibling is clearly visible, the Taycan Cross Turismo boasts several unique exterior design cues. These elements include a unique lower valence, side skirts, slatted rear diffuser, and wheel arch covers exclusive to the Cross Turismo. Transporting bulky cargo or luggage is effortless thanks to its distinctive rear liftgate configuration. Optional roof rails expand its cargo-carrying abilities even further, complemented by a fixed rear roof spoiler. Ground clearance is also raised 20mm higher than the Taycan sedan as well. Lastly, drivers can option this exhilarating all-electric sports wagon with an available rear mounted bike carrier that can carry up to three bikes.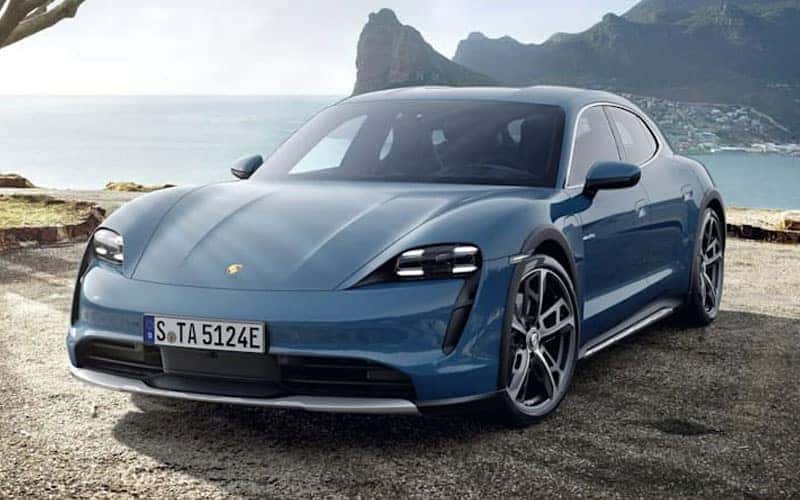 Electric Performance
With the arrival of the Porsche Taycan Cross Turismo, there has never been a more stylish chance to make the switch to an all-electric luxury vehicle. Power comes from a pair of permanent magnet synchronous motors and 93.4 kWh performance battery plus paired to an advanced two-speed transmission — allowing the Taycan Cross Turismo to achieve harmony between impressive efficiency and exhilaration. Four individual trim levels deliver between 469 and 750 total system horsepower along with nearly instantaneous throttle response. Its adjustable Adaptive air suspension including PASM allows you to raise or lower the ride height to suit the road surface conditions. In addition, a dedicated "Gravel" mode adds increased suitability on rougher roads. Its standard Mobile Charger Plus with 9.6 kW, 3 years of Electrify America DC Fast charging, and Porsche Charging Service (App) make it easy to find and maintain a proper charge to hit the highway with confidence.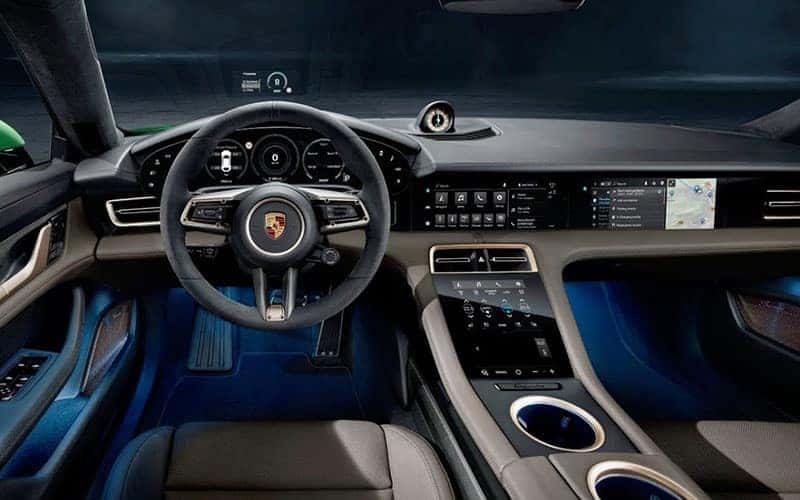 Bespoke Interior
Engineered to adapt to the unique challenges of your daily life, the cabin of the Porsche Taycan Cross Turismo features expanded dimensions that enhance both comfort and capability. In comparison to the Taycan sedan, the Taycan Cross Turismo offers 3.62 additional inches of rear headroom along with an additional 1.4 cubic feet of rear cargo capacity. Standard Porsche Communication Management (PCM) with a high-resolution 10.9-inch touchscreen and a free-standing 16.8-inch curved display provide instantaneous access to all of your favorite multimedia functions. First-class upholstery choices include sustainable tanned Club Leather OLEA or a Race-Tex leather-free interior.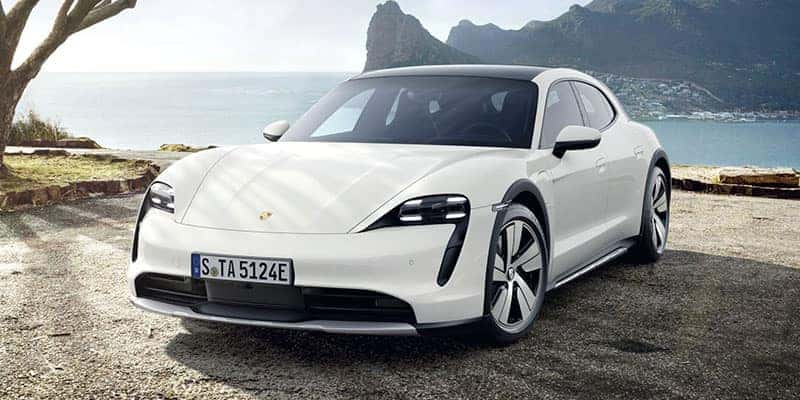 Taycan 4 Cross Turismo
Starting at $97,700 MSRP*
AC Permanent Synchronous Motors (280 kW/375 hp)
Cross Turismo-specific exterior features: lower valence, side skirts, slatted rear diffuser, and wheel arch covers
Porsche Communication Management (PCM)
Race-Tex Leather-free interior
Porsche Advanced Cockpit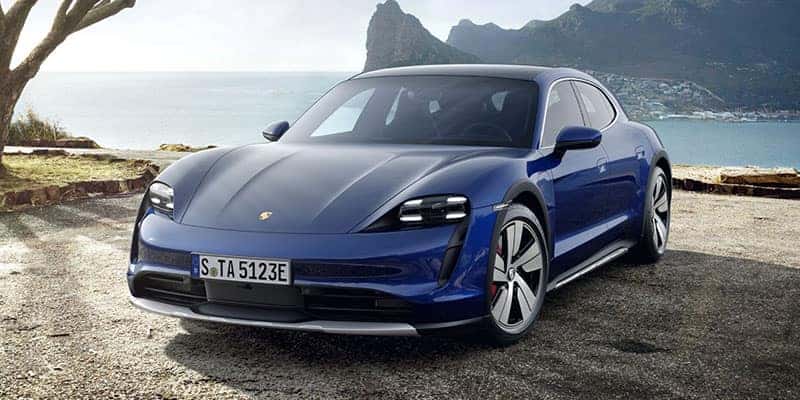 Taycan 4S Cross Turismo
Starting at $113,000 MSRP*
AC Permanent Synchronous Motors (360 kW/482 hp)
Electric all-wheel drive with Porsche Traction Management (PTM)
Porsche Dynamic Chassis Control Sport (PDCC Sport)
Free-standing 16.8-inch curved display
Head-up display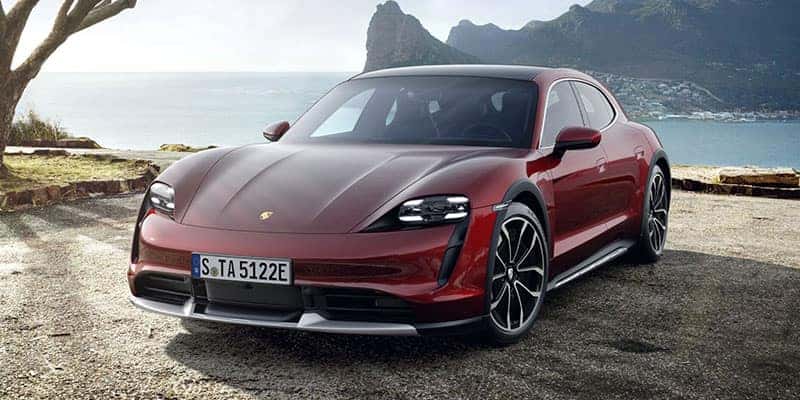 Taycan Turbo Cross Turismo
Starting at $155,900 MSRP*
AC Permanent Synchronous Motors (460 kW/616 hp)
Porsche InnoDrive including adaptive cruise control
Mobile Charger Plus with 9.6 kW (standard)
BOSE® Surround Sound System
800-volt charging with up to 270 kW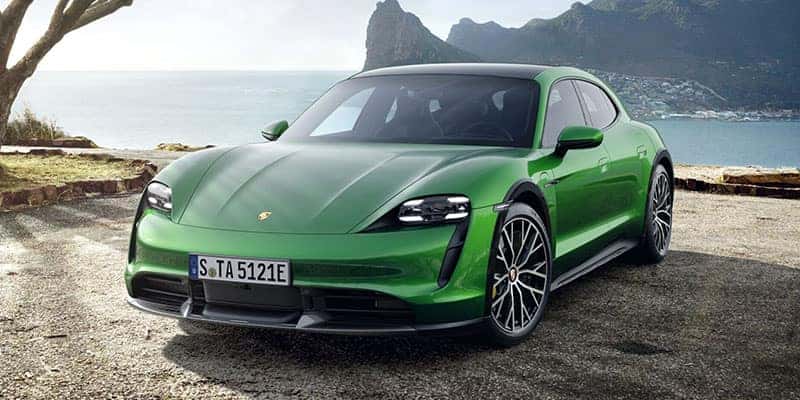 Taycan Turbo S Cross Turismo
Starting at $190,000 MSRP*
AC Permanent Synchronous Motors (460 kW/616 hp)
Porsche Stability Management (PSM) with specific functions for "Gravel" mode
IAdaptive air suspension including PASM with increased ground clearance
Sustainable tanned Club Leather OLEA interior
Burmester® 3D High-End Surround Sound System
Reserve Your Taycan Cross Turismo