Porsche Dealer Near Youngstown

After the closure of the Porsche dealership in Youngstown, OH, Porsche owners and shoppers alike may have believed that they had been orphaned or forgotten about which is simply not true. For over 40 years, Sewickley Porsche has cultivated a loyal clientele of Porsche owners and enthusiasts – because like you – we're Porsche enthusiasts too!
Located near Youngstown, OH, Sewickley Porsche is your closest and most convenient destination for New and Certified Pre-Owned Porsche sports cars and SUV's. Beyond our extensive inventory of the latest Porsche vehicles, our state-of-the-art Porsche service center is ready to accommodate all of your service and maintenance requirements from complex diagnostics to annual oil changes.
But the most important reason to choose Sewickley Porsche is because of our long-tenured staff of Porsche Brand Ambassadors. Our founder served as President of the Porsche Club of America's Northern Ohio Region (1974-1976) and spent 30 years as a competitive driver. There are plenty of reasons to choose Sewickley Porsche as your partner for Porsche service and Porsche vehicles, and the fact we're your closest Porsche dealership is just the beginning.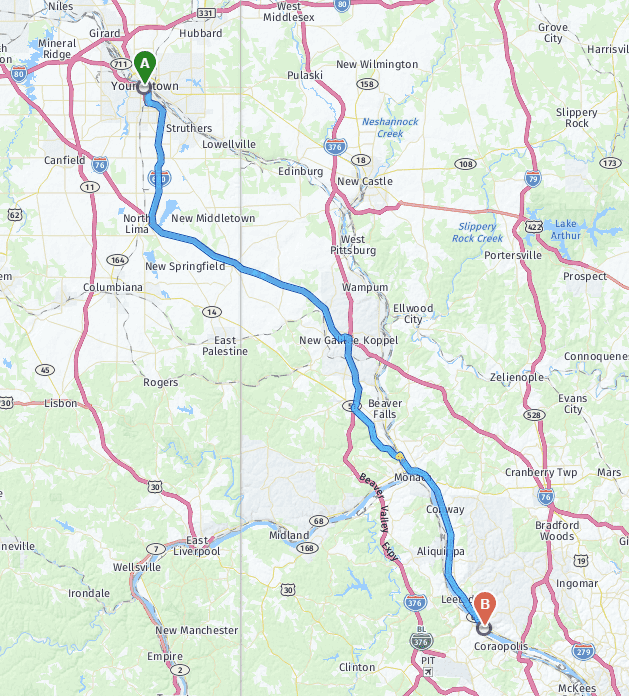 Sewickley Porsche is Just 54 Miles from Youngstown, OH
If you're located in Youngstown, OH you're only a short drive from getting the Porsche experience that both you and your vehicle deserve. Sewickley Porsche is located just about 1 hour from Youngstown. Our team of friendly and knowledgeable Porsche experts look forward to serving you.
Driving Directions to Sewickley Porsche from Youngstown, OH
Turn left and take ramp onto I-680 S toward Pittsburgh
Take the exit toward OH Tpke onto I-76 E (Ohio Tpke)
Continue on I-76 (Pennsylvania Tpke)
Take exit 10 toward Pittsburgh onto I-376 (I-376 Toll E)
Take exit 31 toward PA-51 S
Turn left onto Constitution Blvd (PA-51)
Turn left onto Veterans Memorial Brg
Turn right onto PA-18/PA-65
Continue on Ohio River Blvd (PA-65)
New & Pre-Owned Porsche Vehicles
Whether you're interested in a new or pre-owned Porsche model, our extensive selection makes finding the vehicle of your dreams simple and stress-free. From start to finish, you can be assured that our team of Porsche sales professionals will work alongside you to find the vehicle which best compliments your individual tastes, personal driving style, and budget. Regardless of your vehicle preference, our dedicated team of Porsche Brand Ambassadors looks forward to assisting you.

Genuine Porsche Parts, Service, and Accessories
From the race track to the road home, your Porsche is engineered to deliver uncompromised performance. At Sewickley Porsche, we're here to ensure you'll enjoy the same superior driving experience — whether your vehicle has taken you 10,000 or 100,000 miles. Our state-of-the-art Porsche service center is equipped with Porsche-certified technicians who understand the specifics of your vehicle inside and out. Your Porsche will get the service or maintenance it needs along with Genuine Porsche parts tailored to your exact vehicle.
Our convenient online scheduling tool makes it simple to select the date and time that best fits your schedule. For regular maintenance or major repairs, Sewickley Porsche is here to ensure your Porsche continues to deliver the exceptional performance you've come to expect.
Visit Sewickley Porsche Today — Proudly Serving Drivers in Youngstown, OH
Contact us online, browse our available reviews, or better still, stop by and visit our showroom in person located at 526 Ohio River Blvd. We proudly serve Youngstown, Canfield, Boardman, Salem, New Springfield, and the surrounding communities.