2023 Porsche Cayenne Model Overview & 0-60 Time by Trims

Porsche Cayenne
Key Features
Starting at $72,200 MSRP*
Standard 3.0L single-turbo V6 with 335 horsepower / 332 lb-ft of torque (Cayenne), available 2.9L twin-turbo V6 with 434 horsepower / 405 lb-ft of torque (Cayenne S), or available twin-turbocharged V8 with 541 or 453 horsepower / 457 or 568 lb-ft of torque (Cayenne Turbo)
Eight-speed Tiptronic S gearbox
Porsche Traction Management (PTM) AWD
Available rear-axle steering for increased agility and stability
Intensive use of aluminum reduces weight vs. previous generation
Optional Porsche Surface Coated Brakes (PSCB)
Available Burmester® 3D High-End Surround Sound System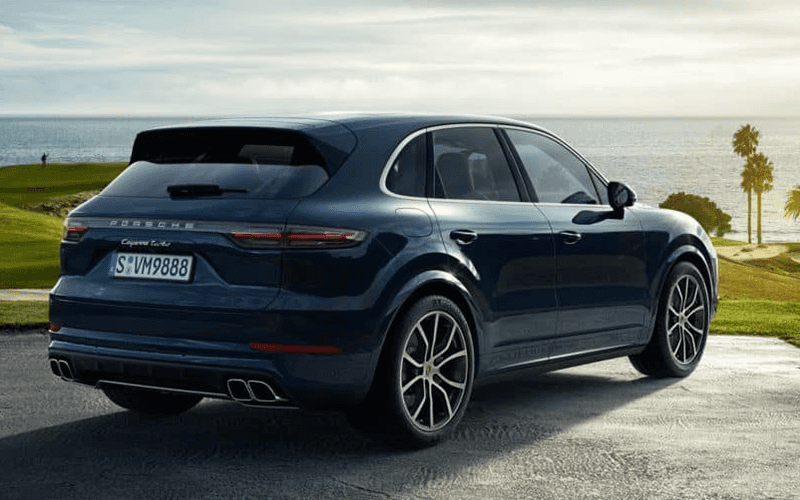 About the Porsche Cayenne
Building on the proven formula that began in 2003, the Porsche Cayenne aims to push performance boundaries even further through technologies that significantly improve on-road performance and comfort. Drivers will have their selection of a variety of individual Cayenne models which are engineered to meet the needs of the most demanding luxury SUV buyers. The Cayenne is now more athletic both in appearance and driving performance thanks to bold styling cues and engineering developments. To complement its modern exterior, the interior carries many of the same design cues and technologies that made their debut on the Porsche Panamera.
Porsche Cayenne at a Glance
| | | | | |
| --- | --- | --- | --- | --- |
| | | | | |
| Model | Cayenne | Cayenne S | Cayenne GTS | Cayenne Turbo |
| Horsepower | 335 | 434 | 453 | 541 |
| 0-60 MPH Time | 5.9 seconds | 4.9 seconds | 4.5 seconds | 3.9 seconds |
| Top Speed | 152 MPH | 164 MPH | 167 MPH | 177 MPH |
"Now in its third generation, the Cayenne continues to truly be the Porsche of midsize crossovers. This SUV delivers the distinct aesthetic, thrilling performance, and posh interior associated with the Porsche brand with the versatility of a midsize luxury SUV, all with little compromise." — Kelley Blue Book
"There are few vehicles — high-performance luxury SUVs or otherwise — that are as well-rounded as the Porsche Cayenne. Whether you're looking for an SUV that's practical or slinky — or fast or fuel-efficient (or all four!) — there's a Cayenne variant to suit your needs." — Edmunds
What's New for 2023
Only a handful of small changes have been made to the successful Porsche Cayenne for the 2023 model year. Both wireless Android Auto and native Spotify integration have been added to the standard PCM infotainment system of the Cayenne. Changes to the exterior color lineup of the Cayenne is highlighted by the replacement of Jet Black Metallic with a new Chromite Black Metallic and the discontinuation of Chalk. Besides those small revisions, the Porsche Cayenne returns as one of the most coveted luxury SUVs available on the market.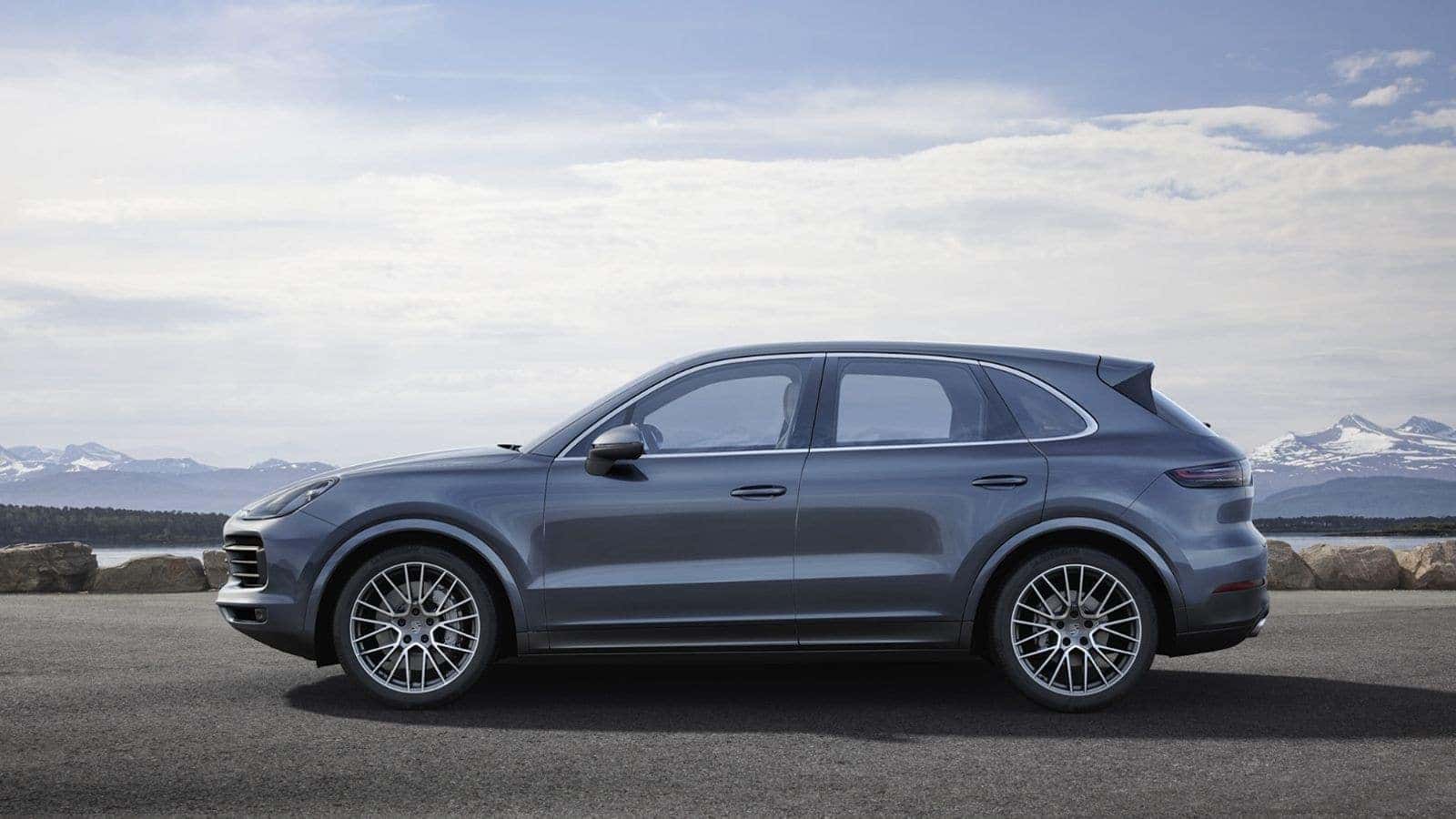 Performance
The Cayenne is powered by a 3.0-liter single-turbo V6 making 335 horsepower and 332 lb-ft of torque, enabling it to accelerate from zero to 60 mph in 5.9 seconds (or 5.6 seconds with the optional Sport Chrono package). The Cayenne S uses a 2.9-liter twin-turbo V6 that makes 434 horsepower and 405 lb-ft of torque. It can accelerate to 60 mph from a standstill in just 4.9 seconds (or 4.6 seconds with the optional Sport Chrono package) and continue on toward a top track speed of 164 mph. A responsive eight-speed Tiptronic S transmission is included as standard equipment across the Cayenne line. Fully variable Porsche Traction Management (PTM) all-wheel drive is standard on all Cayenne models. Porsche Surface Coated Brake (PSCB) technology offers a finish that increases friction values while reducing wear and brake dust.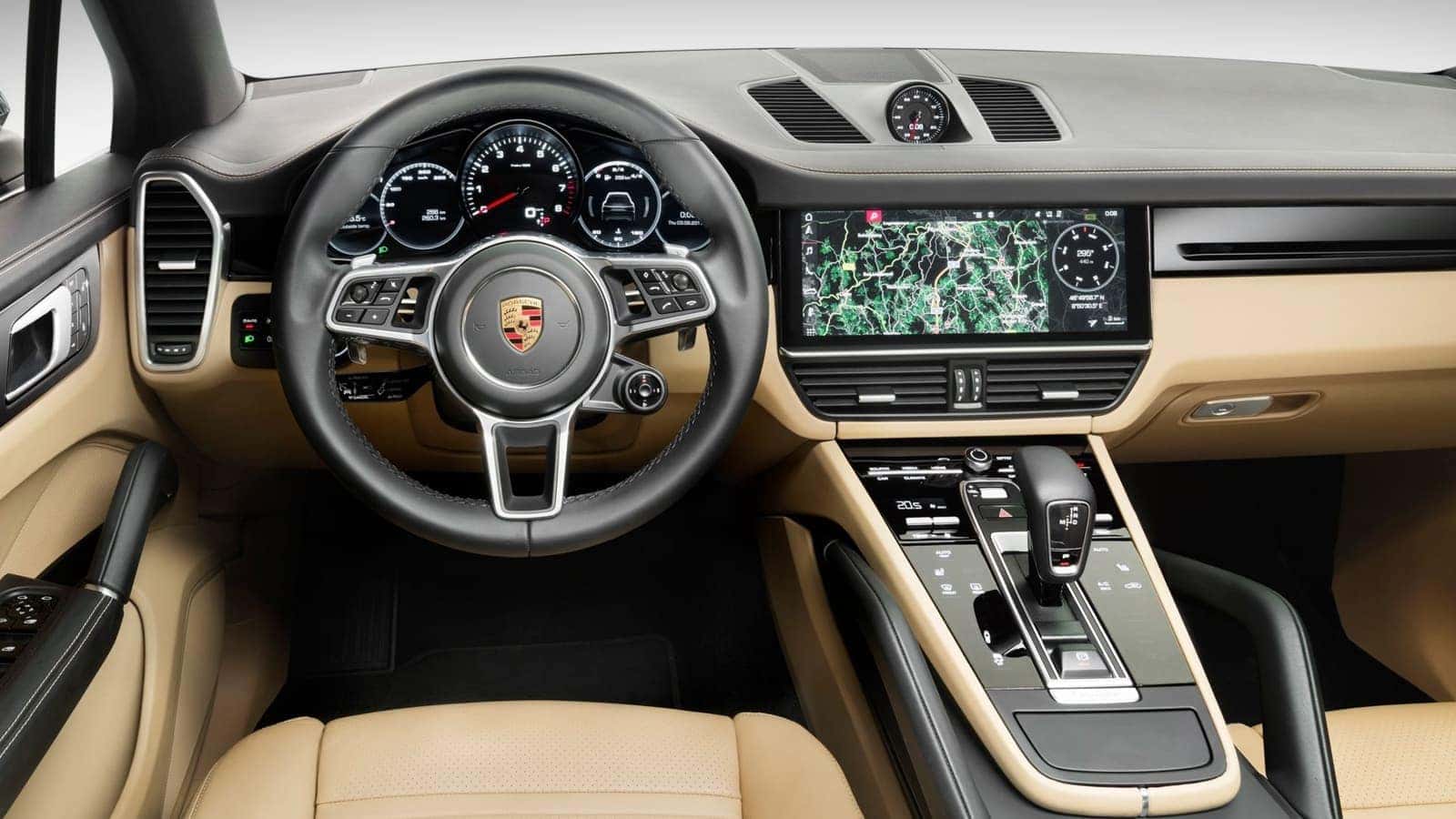 Interior
First employed in the 918 Spyder, the Cayenne features an available Sport Chrono Package with individually configurable modes. The latest version of Porsche Communication Management (PCM), adapted from the interface found in the state-of-the-art all-electric Taycan, adds a new level of connectivity, including Apple CarPlay® and Android Auto™ integration. This cutting-edge infotainment hub includes a massive 12.3-inch full-HD touchscreen display with intuitive controls. PCM also offers the ability for a great degree of customization by saving preferred settings and menu layouts including up to six individual profiles. The highlight of this newest version of PCM is its user-friendly nature, with natural voice control activated simply by saying "Hey Porsche." Sound systems from Bose® and Burmester® provide a concert-like listening experience in the Cayenne.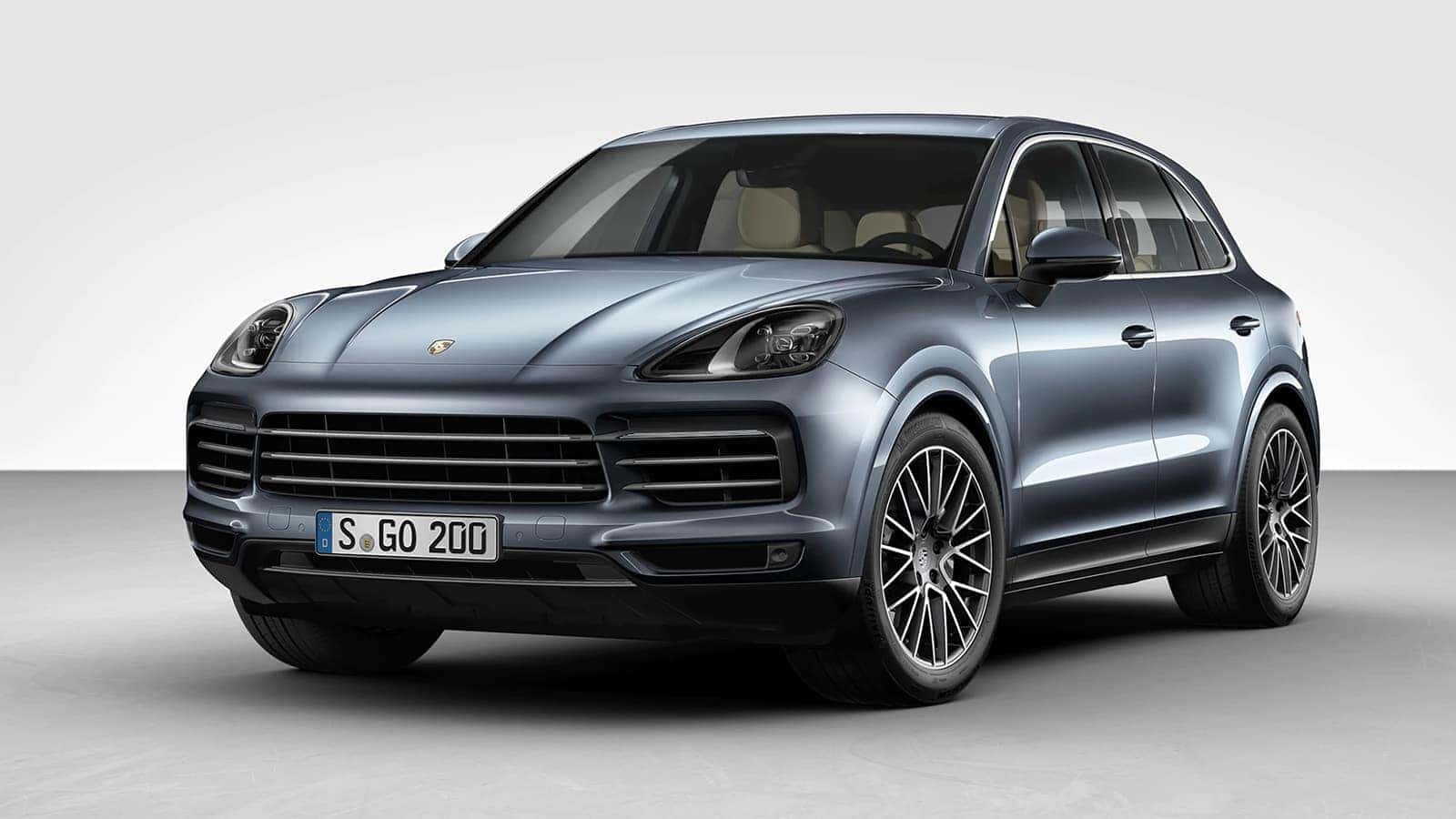 Design
While maintaining a strong visual connection to its predecessors, the Cayenne adopts bold design elements that hint at how this generation builds upon its legacy. Enlarged air intakes in the front fascia along with crisp horizontal light edges create a wider, more athletic appearance. Cargo area volume with the rear seats raised has increased by almost 15 percent over the previous generation to 27.19 cubic feet. The available Porsche Dynamic Light System (PLDS) or LED Matrix Beam headlights enhance the visual appeal of the Cayenne while providing illumination with exceptional clarity.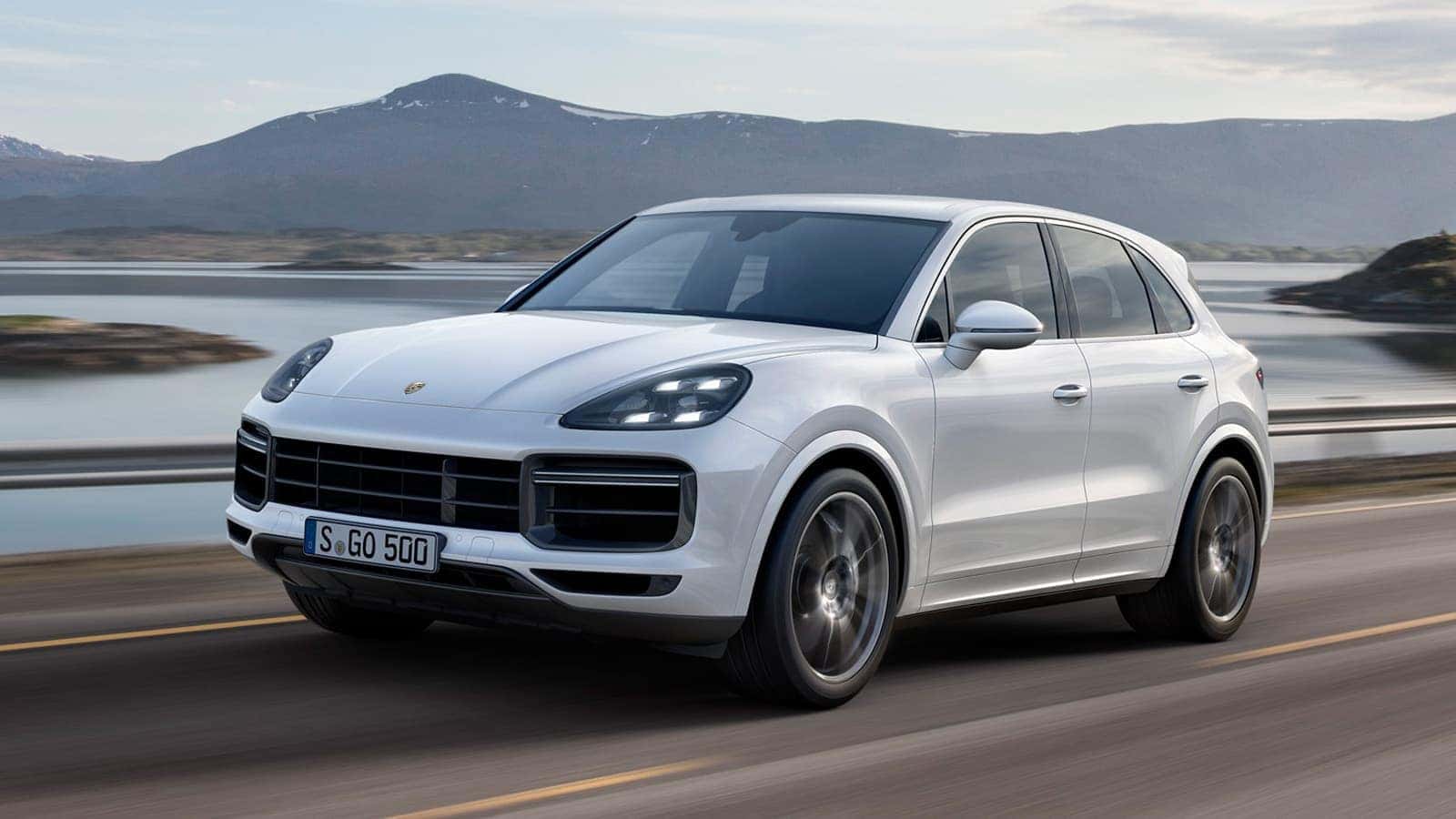 Cayenne Turbo
The third-generation Cayenne Turbo raises the bar for performance in the segment with a twin-turbo four-liter V8 engine that delivers 541 horsepower. Improved driving dynamics are a direct result of innovations which include high-performance Porsche Surface Coated Brake (PSCB) technology, three-chamber air suspension, and staggered tire sizes. Representing gains over the previous generation, the Cayenne Turbo can rocket from 0 – 60 in just 3.7 seconds with the optional Sport Chrono Package on its way to a top track speed of 177 MPH. 18-way sport seats, seatbacks with integrated headrests, and standard heating functions for all outboard seats help ensure both drivers and passengers can enjoy unparalleled comfort and support.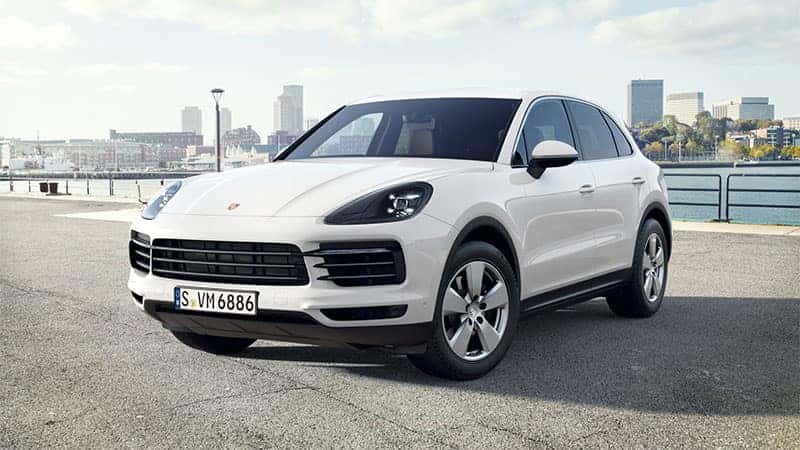 Cayenne
Starting at $72,200 MSRP
Horsepower – 335
0-60 MPH – 5.9 seconds
Top Track Speed – 152 MPH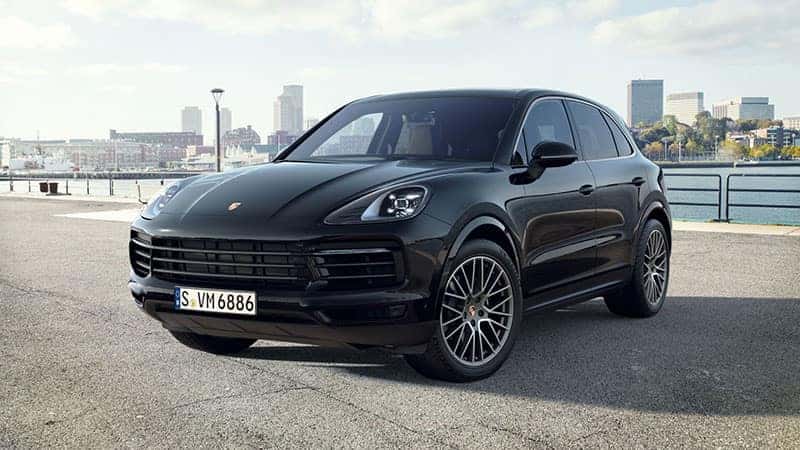 Cayenne Platinum Edition
Starting at $80,400 MSRP
Horsepower – 335
0-60 MPH – 5.9 seconds
Top Track Speed – 152 MPH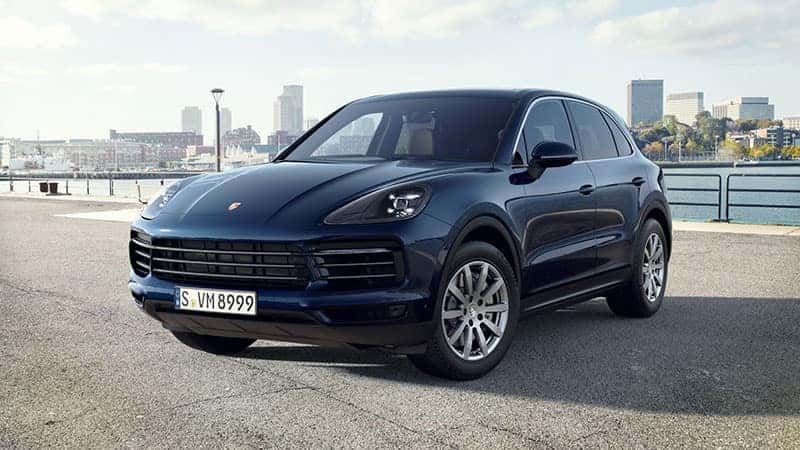 Cayenne S
Starting at $90,900 MSRP
Horsepower – 434
0-60 MPH – 4.9 seconds
Top Track Speed – 164 MPH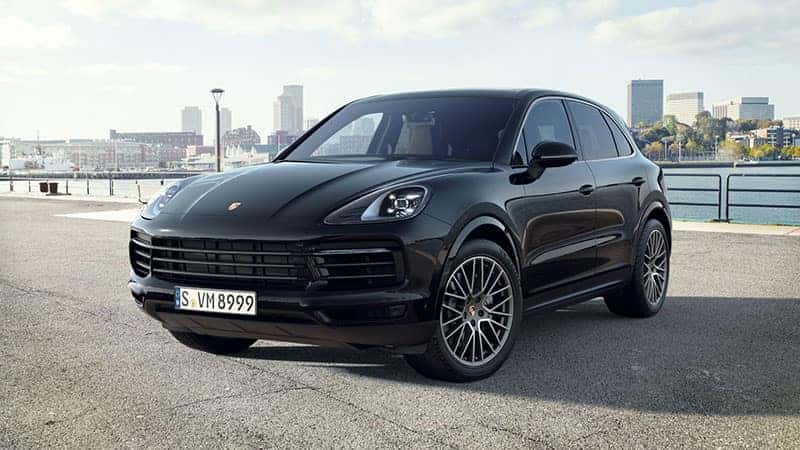 Cayenne S Platinum Edition
Starting at $95,100 MSRP
Horsepower – 434
0-60 MPH – 4.9 seconds
Top Track Speed – 164 MPH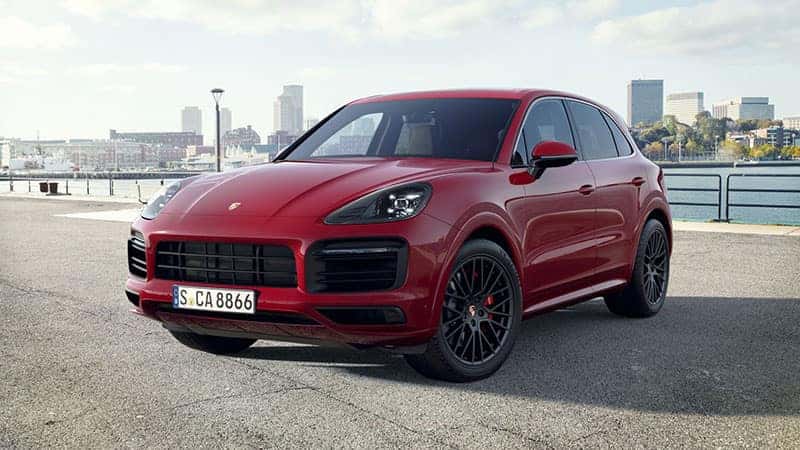 Cayenne GTS
Starting at $113,100 MSRP
Horsepower – 453
0-60 MPH – 4.5 seconds
Top Track Speed – 167 MPH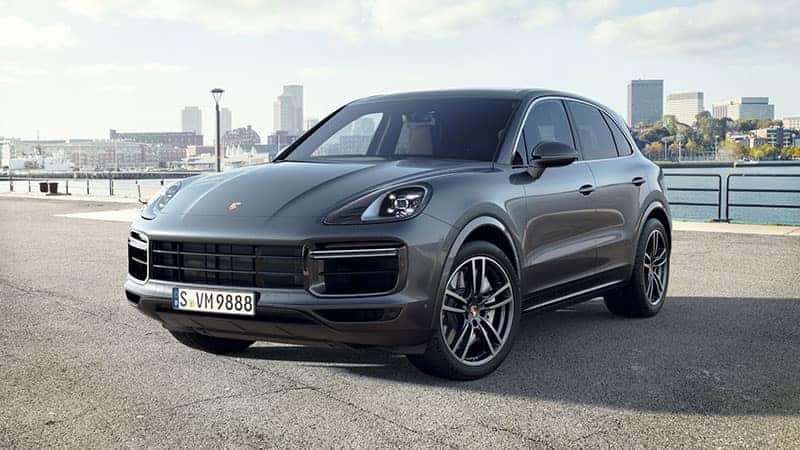 Cayenne Turbo
Starting at $135,900 MSRP
Horsepower – 541
0-60 MPH – 3.9 seconds
Top Track Speed – 177 MPH