2021 Porsche 718 Cayman Model Review with Prices, Photos, & Specs

2021 Porsche 718 Cayman
Key Features
Starting at $59,900 MSRP
Standard turbocharged boxer 2.0L 4-cylinder with 300 HP / 280 LB-FT of TQ (Cayman / Cayman T), available turbocharged boxer 2.5L 4-cylinder with 350 HP / 309 LB-FT of TQ (Cayman S), available naturally aspirated 3.0L boxer 6-cylinder with 394 HP / 317 LB-FT of TQ (Cayman GTS 4.0) or 414 HP / 317 LB-FT of TQ (Cayman GT4)
Porsche Dynamic Light System (PDLS)
Available Porsche Ceramic Composite Brakes (PCCB)
Standard 6-speed manual transmission or optional seven-speed PDK dual-clutch transmission
Available Porsche Active Suspension Management (PASM) and Porsche Stability Management (PSM)
Porsche Communication Management (PCS) with Porsche Connect including smartphone apps
Optional Sport Chrono Package featuring Launch Control
About the Porsche 718 Cayman
Track-ready performance, a driver-focused cabin, and timeless styling cues are only three of the most appealing characteristics of the exciting Porsche 718 Cayman. A true display of unbridled driving bliss, the 718 Cayman is assembled with a mid-engine layout along with rear-wheel drive for a perfected combination of agile handling and athletic acceleration. Featuring your choice of turbocharged 4-cylinders or naturally aspirated inline 6-cylinder engines — the 718 Cayman is perfectly suited to all types of driving styles. Thoroughly modern yet timeless at the same time, its upscale interior has been painstakingly designed to support every action of the driver. Advanced technology infused into the 718 Cayman provides exceptional connectivity and convenience functions to enhance your drive. From twisting canyon roads to smooth downtown boulevards, it's undeniable that the Porsche 718 Cayman sets the standard for all other sports coupes in its class.
Sports coupe shoppers will discover a wide variety of exciting changes to the Porsche 718 Cayman for the 2021 model year. All 718 Cayman models now come standard with automatic two-zone climate control, heated front seats, auto-dimming mirrors with rain sensor, Apple CarPlay®, and bi-xenon headlights with the Porsche Dynamic Light System (PDLS). Also debuting for 2021, the 718 Cayman GTS 4.0 arrives with a 4.0 liter naturally aspirated six-cylinder boxer engine. Models equipped with the 4.0L boxer 6 engine can now be equipped with the 7-speed PDK for the very first time as well.
"The Porsche 718 Cayman is a joy on a twisty road, carving through corners with verve and powering on to the next one with good force, all while putting a smile on the driver's face. The kinetic thrills truly are exhilarating, stirring, and satisfying." — Kelley Blue Book
"The Porsche 718 Cayman is one of the best cars to drive, period. With its mid-engine RWD layout and the added rigidity of the hardtop body, few cars — if any — can match its balance, athleticism, poise, and engagement. The impressively quick steering only enhances the 718 Cayman's razor-sharp reflexes." — Autotrader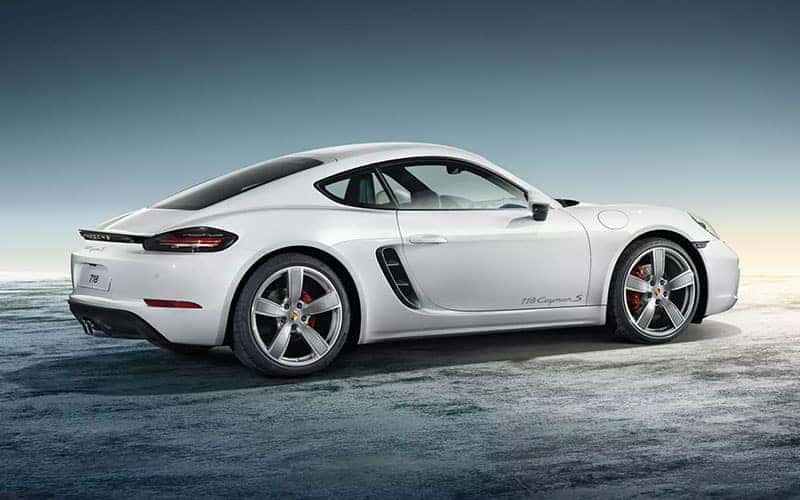 Race-Ready Performance
Featuring the horizontally opposed layout made famous by Porsche, the standard engine that powers the 718 Cayman is a 2.0L turbocharged boxer 4-cylinder producing a balanced 300 horsepower. Searching for more muscle? The 718 Cayman S comes equipped with a larger 2.5L turbocharged boxer 4-cylinder with 350 horsepower. For maximum exhilaration, the Porsche 718 Cayman GTS 4.0 and 718 Cayman GT4 are powered by a legendary 4.0 liter naturally aspirated six-cylinder boxer engine, producing 394 and 414 horsepower respectively. Drivers can select either a close-ratio 6-speed manual or available 7-speed PDK dual-clutch automatic for crisp gear changes. Other available performance options found on the 718 Cayman lineup include a mechanical limited-slip differential with Porsche Torque Vectoring (PTV), Sport Exhaust System, PASM Sport Suspension, and the Sport Chrono package.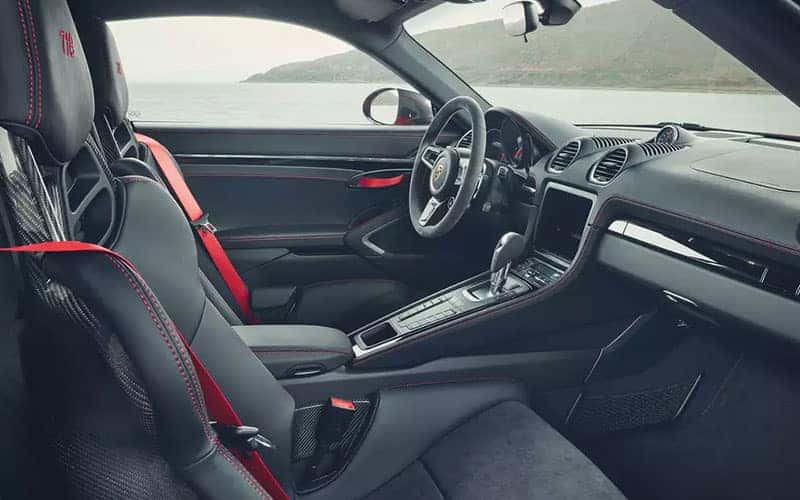 Driver-Focused Cockpit
Striking a distinctive harmony between driver-focused comfort and useful ergonomics, the cabin of the Porsche 718 Cayman achieves a true connection between driver and machine. The minimalist design of the dashboard includes an ascending center console along with three round instruments within the gauge cluster and a center-mounted tachometer. A range of leather and Alcantara upholstery selections provide the perfect blend of supple feel and exceptional support during high-speed driving maneuvers. Equally lightweight and functional, the standard Sport steering wheel features two alloyed gearshift paddles on PDK-equipped 718 Cayman variants for the ultimate in control. Ideal for a weekend getaway, the 718 Cayman offers 5.3 cubic feet of space in the front storage compartment in addition to 9.7 cubic feet at the rear for all of your luggage.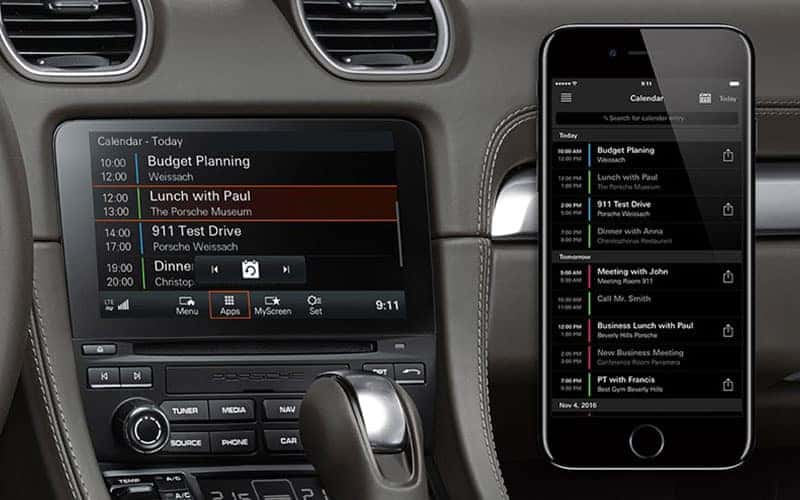 Innovative Technology
Acting as your centralized command center for infotainment and important drive information inside the Porsche 718 Cayman, the standard Porsche Communication Management (PCM) features offers a comprehensive amount of connectivity features. Standard across the model range, Apple CarPlay™ complete with Google Earth Navigation, real-time traffic info, and access to your phone's apps helps you stay in touch no matter how far your journey takes you. Choose from BoseⓇ Surround Sound and BurmesterⓇ High-End Surround Sound Systems for a truly unmatched listening experience. Optional Porsche Car Connect helps you access key vehicle data remotely using your smartphone or other compatible devices at the touch of a button.
Porsche 718 Cayman Trims & Specs
718 Cayman
Starting at $59,900 MSRP
2.0-liter Turbocharged 4-Cylinder Boxster Engine
300 Horsepower | Rear Wheel Drive
0 – 60 MPH in 4.9 seconds
Top track speed – 170 MPH
718 Cayman T
Starting at $68,900 MSRP
2.0-liter Turbocharged 4-Cylinder Boxster Engine
300 Horsepower | Rear Wheel Drive
0 – 60 MPH in 4.5 seconds with Sport Chrono Package
Top track speed – 170 MPH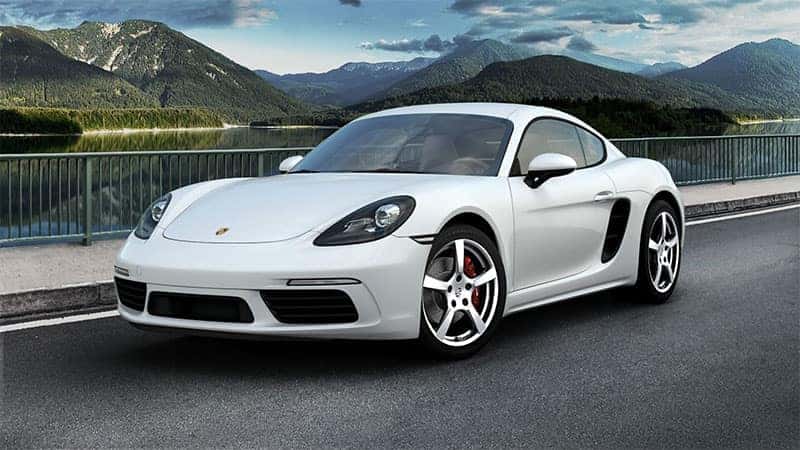 718 Cayman S
Starting at $71,900 MSRP
2.5-liter Turbocharged 4-Cylinder Boxster Engine
350 Horsepower | Rear Wheel Drive
0 – 60 MPH in 4.4 seconds
Top track speed – 177 MPH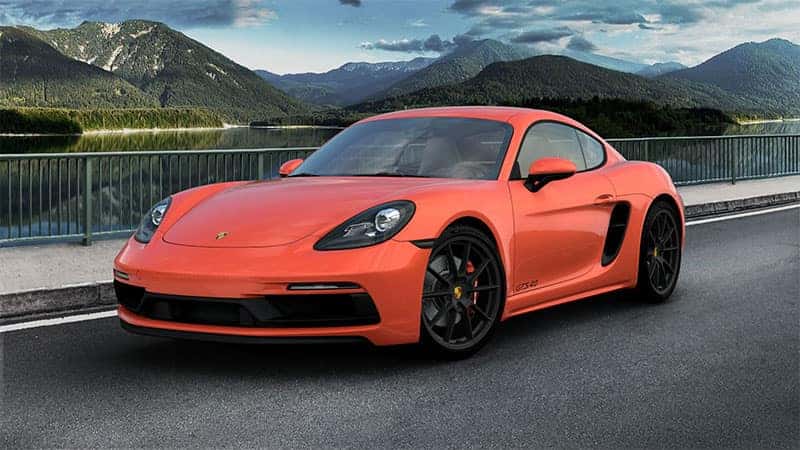 718 Cayman GTS 4.0
Starting at $86,800 MSRP
4.0-liter Naturally Aspirated 6-Cylinder Boxster Engine
394 Horsepower | Rear Wheel Drive
0 – 60 MPH in 3.8 seconds with Sport Chrono Package
Top track speed – 179-182 MPH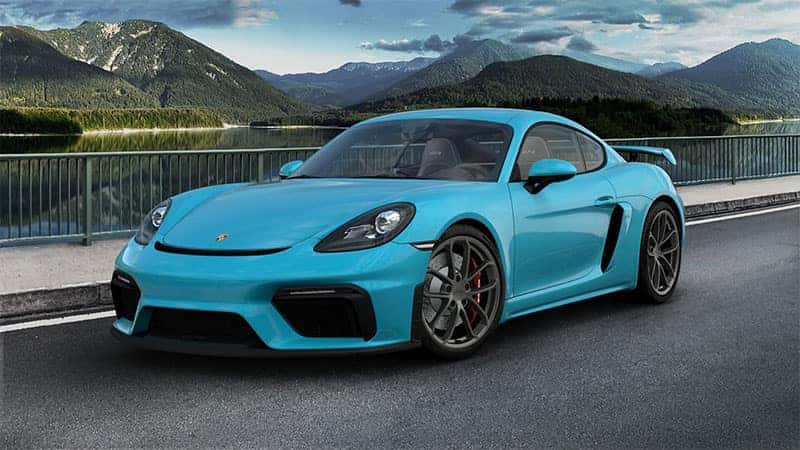 718 Cayman GT4
Starting at $100,200 MSRP
4.0-liter Naturally Aspirated 6-Cylinder Boxster Engine
414 Horsepower | Rear Wheel Drive
0 – 60 MPH in 4.2 seconds
Top track speed – 188-189 MPH