2024 Porsche 718 Boxster Specs, Review, Price, & Trims

Porsche 718 Boxster
Key Features
Starting at $70,400 MSRP
Standard turbocharged boxer 2.0L 4-cylinder with 300 HP / 280 LB-FT of TQ (Boxster / Boxster Style Edition), available turbocharged boxer 2.5L 4-cylinder with 350 HP / 309 LB-FT of TQ (Boxster S), available naturally aspirated 4.0L boxer 6-cylinder with 394 HP / 317 LB-FT of TQ (Boxster GTS 4.0) or 493 HP / 331 LB-FT of TQ (Spyder RS)
Porsche Dynamic Light System (PDLS)
Optional Sport Chrono Package featuring Launch Control
Standard 6-speed manual transmission or optional seven-speed PDK dual-clutch transmission
Available Porsche Active Suspension Management (PASM) and Porsche Stability Management (PSM)
Porsche Communication Management (PCS) with Porsche Connect including smartphone apps
Available Porsche Ceramic Composite Brakes (PCCB)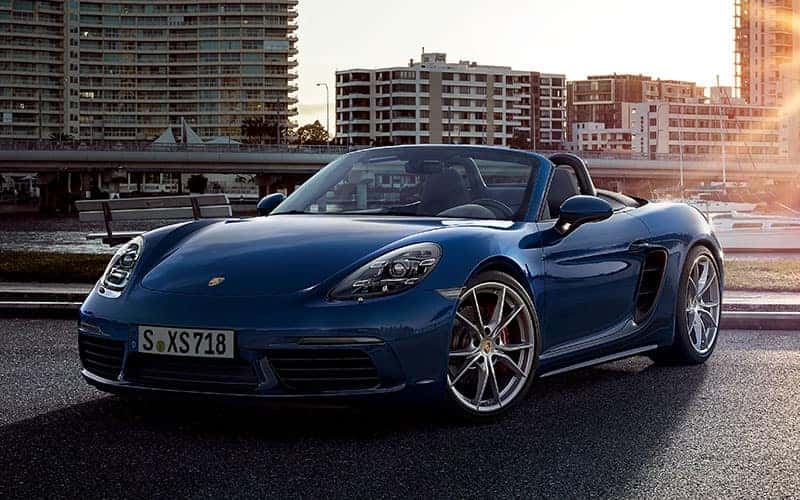 About the Porsche 718 Boxster
Life is too short for 'what ifs'. Too short for unfulfilled wishes and dreams. The Porsche 718 Boxster blends the sporting spirit of a mid-engine roadster with striking design, athletic chassis setup, and luxurious comfort. At its heart, a four-cylinder turbocharged engine or naturally aspirated 6-cylinder beat with the same fighting spirit that has earned countless podium finishes – delivering up to 493 horsepower. Handling remains a signature characteristic of the 718 Boxster thanks to a low center of gravity, compact lightweight body construction, and smooth power delivery.
When closed, the fabric roof of the 718 Boxster completes the sleek silhouette of an iconic sports car. Unmistakable Porsche design elements include sculpted wheel arches, distinctive edges, and clearly defined contours. This superlative exterior design only hints at the blistering performance found under the hood. A driver-centric interior layout immerses your senses behind the wheel of the 718 Boxster. Experience the fundamentally revised version of Porsche Communication Management (PCM) featuring a 7-inch multi-touch screen for seamless connectivity. Choose from a comprehensive selection of personalization options to create a 718 Boxster that reflects your own unique personality.
2024 brings with it a number of key updates to the Porsche 718 Boxster lineup. Last year's Boxster T variant has been swapped out for a new Boxster Style Edition model, touting a number of stylish design cues both inside and out. Style Edition models are also offered with a new Ruby Star Neo exterior paint choice. Additionally, the high-performance Spyder model has been discontinued in favor of a new Spyder RS model. The race-inspired Spyder RS is equipped with a potent 4.0-liter flat-six that generates 493 horsepower.
"The Porsche 718 Boxster is a convertible sports car in the classical sense, which is to say it's focused primarily on nimble handling and driver enjoyment. We wouldn't want it any other way. Much of its allure comes from its mid-engine configuration, meaning the engine sits between the seats and rear wheels. This gives the 718 Boxster (and its fixed-roof 718 Cayman sibling) a handling balance prized by car enthusiasts." – Edmunds
"Few vehicles fulfill their intended mission as well as the Porsche 718 Boxster does. Same goes for its coupe brother, the 718 Cayman. This car's mid-engine design and sport-tuned chassis help it to deliver perfectly balanced driving dynamics, and its lineup of horizontally opposed turbocharged four- and six-cylinder engines provide plenty of power to accompany this roadster's sharp handling." – Car and Driver
Porsche 718 Boxster Features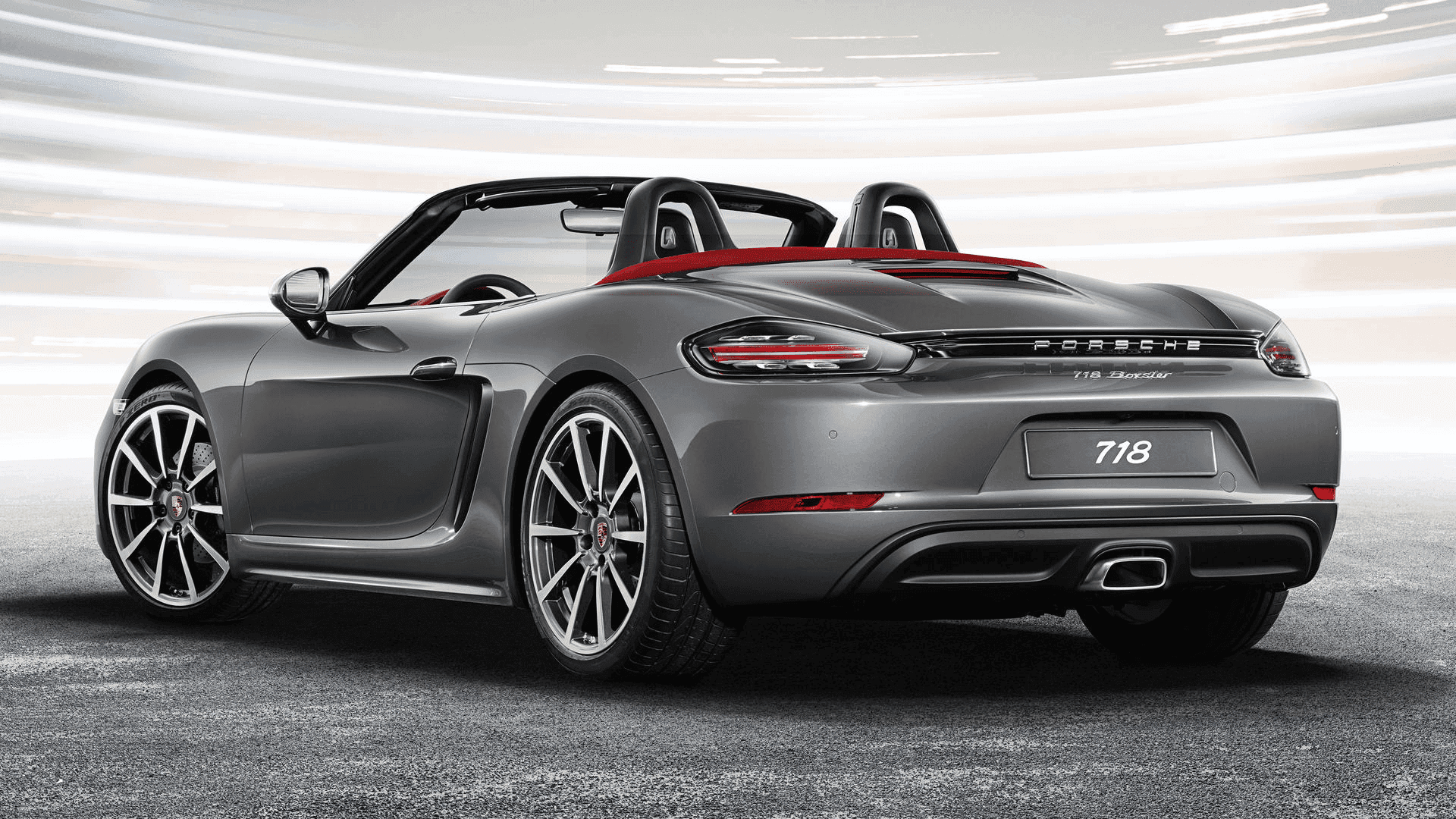 Performance
Drivers can choose between two exceptional turbocharged 4-cylinder engines that deliver 300 and 350 horsepower respectively and instantaneous acceleration. Rocketing from 0-60 in a Porsche 718 Boxster S takes as little as 4.4 seconds. Looking for more muscle? Step up to the naturally aspirated 4.0L boxer 6-cylinder producing either 394 horsepower (718 Boxster GTS 4.0) or 493 horsepower (718 Spyder RS). You'll also have your choice of a smooth-shifting 6-speed manual transmission or 7-speed PDK transmission featuring both a manual and an automatic mode for extremely fast gear changes with no interruption in power delivery. The typically resonant Porsche sound is also an intrinsic feature of the 718 Boxster, providing the fitting soundtrack on the way to new heights of performance. Porsche Torque Vectoring (PTV) is an optional system for enhancing driving dynamics and stability, helping to inspire confidence behind the wheel.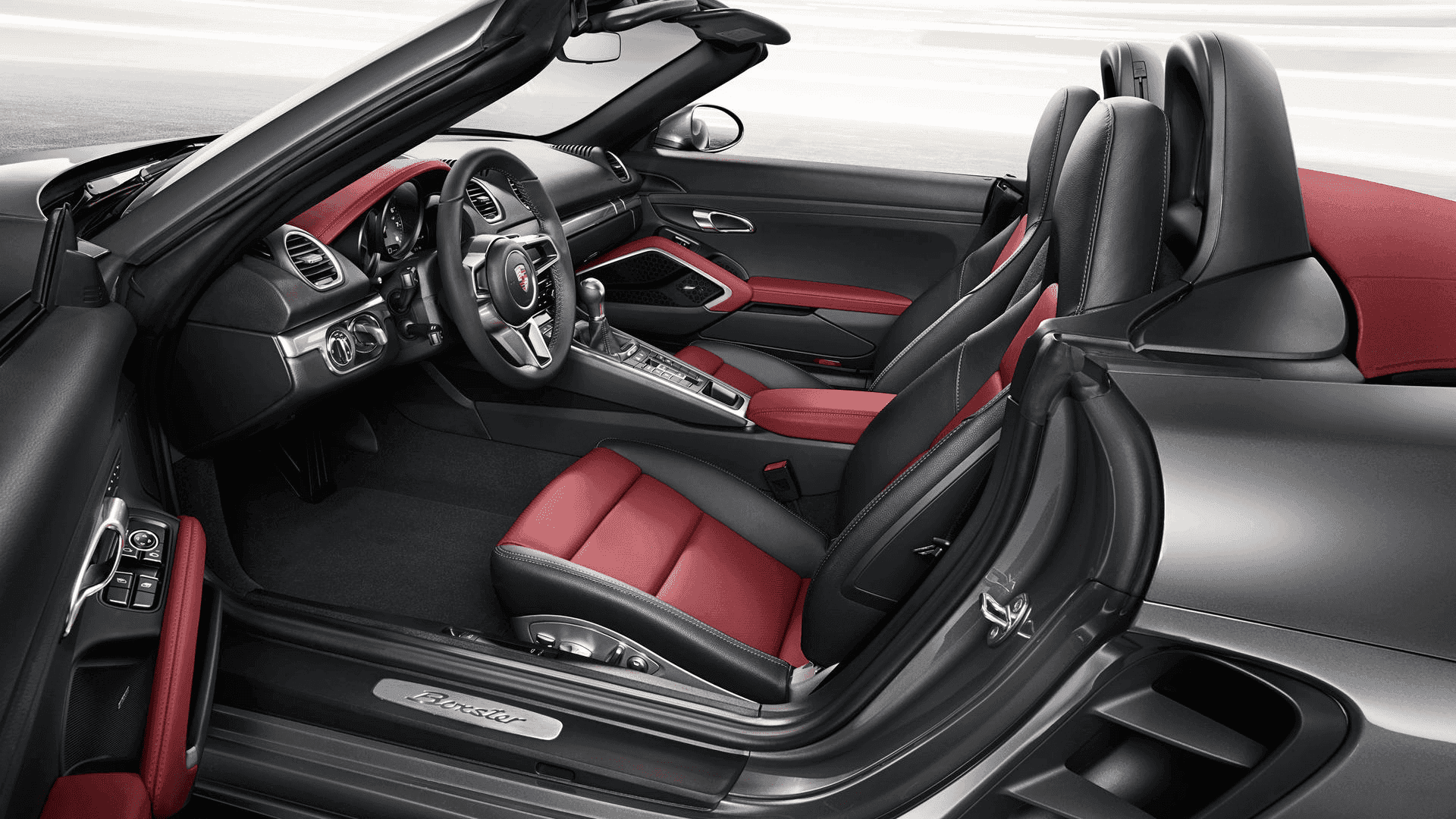 Driver-Focused Cockpit
At Porsche, function and design are inextricably linked. An ascending center console, ergonomic Sport steering wheel, and three round instruments with the tachometer positioned in the center help create an environment that's completely centered around the driver inside the Porsche 718 Boxster. Leather and Alcantara® materials are easy to grip, while the firmly padded Sport seats provide support during dynamic cornering maneuvers. The Porsche Communication Management (PCM) system with a 7-inch multitouch screen and optional navigation module enhance form and function with a further component: nearly boundless possibilities.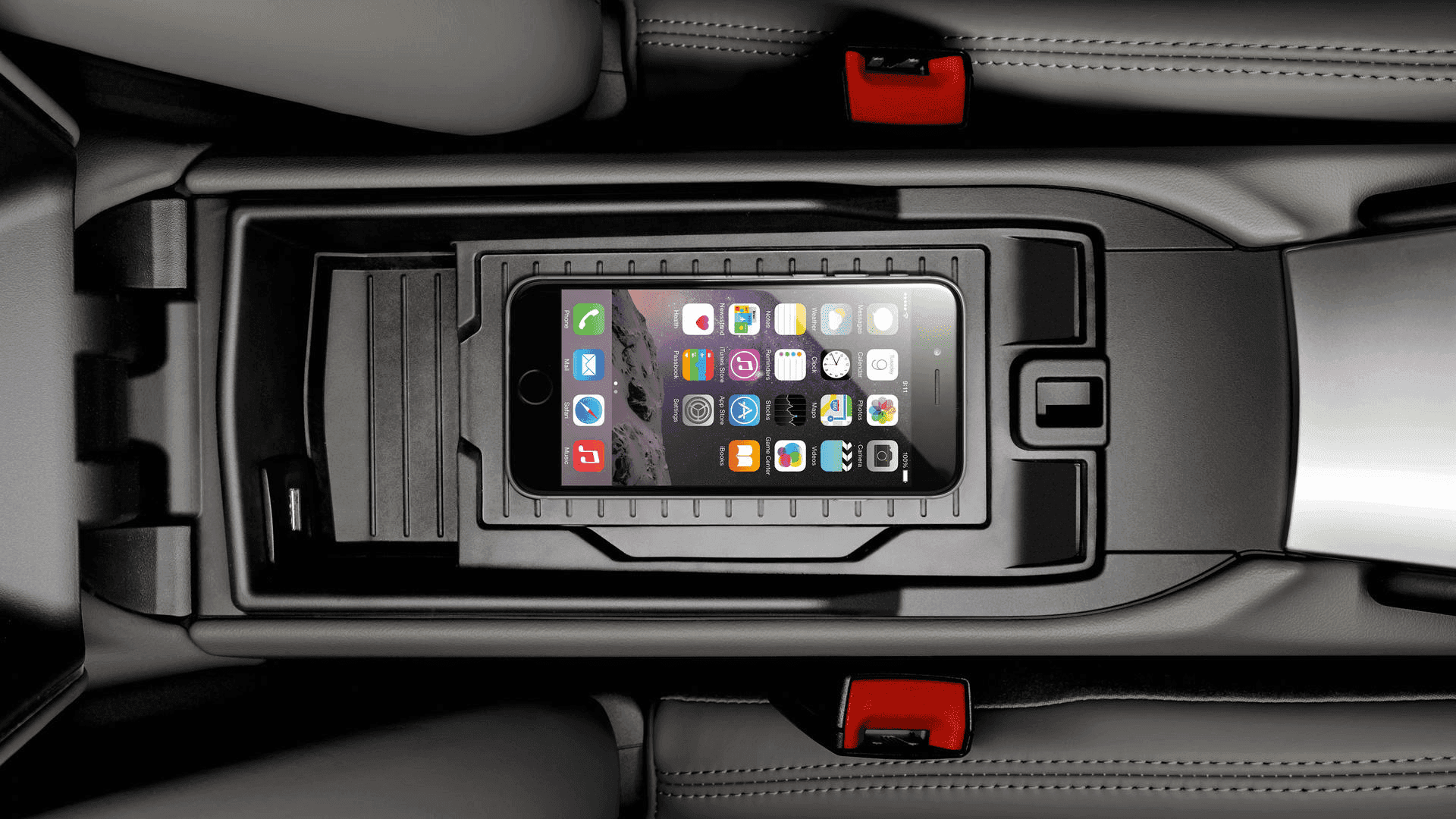 Technology
With its high-quality glass surface, Porsche Communication Management is the aesthetically perfect addition to the center console. With standard mobile phone preparation, a Bluetooth® connection can be established automatically. Wireless Internet access gives you in-car online access from WiFi-enabled client devices tethered to your smartphone or a separate SIM card.
The available online navigation package also includes Google® Street View and Google® Earth services with 360° views and satellite imagery. Porsche Connect is an available feature that lets you can control certain functions of your Porsche remotely via your smartphone or Apple Watch®.

Car and Driver 10 Best – 718 Boxster
1
Car and Driver Editor's Choice
2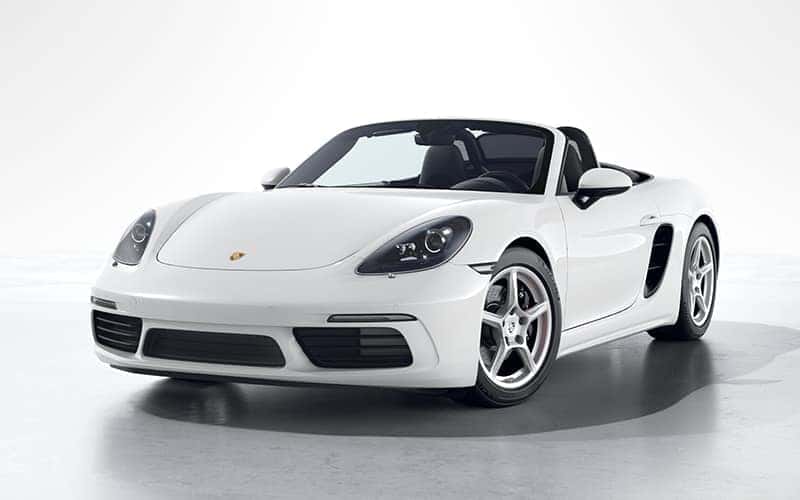 718 Boxster
Starting at $70,400 MSRP
2.0-liter Turbocharged 4-Cylinder Boxer Engine
300 Horsepower | Rear Wheel Drive
0 – 60 MPH in 4.9 seconds
Top track speed – 170 MPH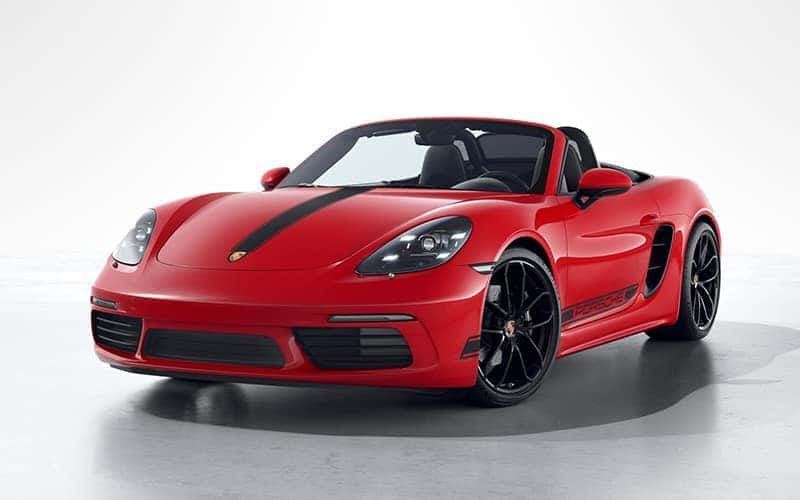 718 Boxster Style Edition
Starting at $76,700 MSRP
2.0-liter Turbocharged 4-Cylinder Boxer Engine
300 Horsepower | Rear Wheel Drive
0 – 60 MPH in 4.5 seconds with Sport Chrono Package
Top track speed – 170 MPH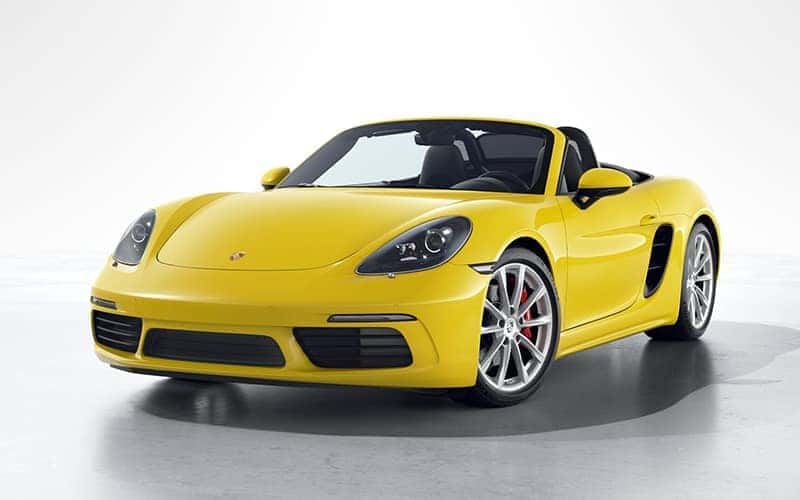 718 Boxster S
Starting at $82,400 MSRP
2.5-liter Turbocharged 4-Cylinder Boxer Engine
350 Horsepower | Rear Wheel Drive
0 – 60 MPH in 4.4 seconds
Top track speed – 177 MPH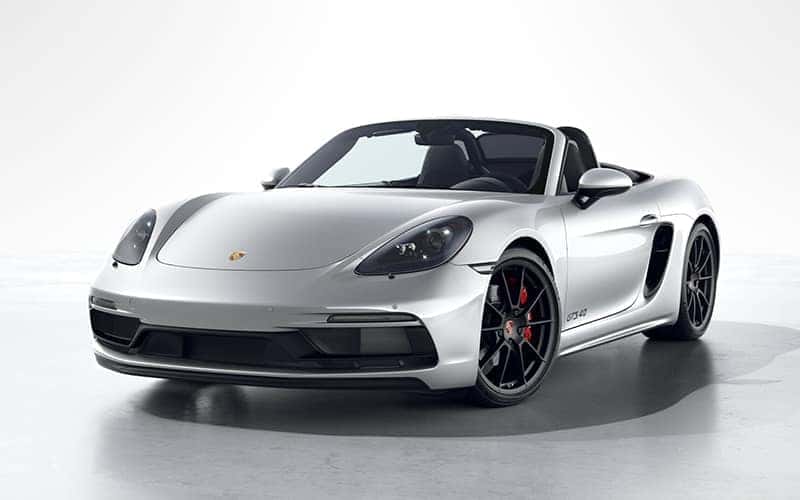 718 Boxster GTS 4.0
Starting at $97,300 MSRP
4.0-liter Naturally Aspirated 6-Cylinder Boxer Engine
394 Horsepower | Rear Wheel Drive
0 – 60 MPH in 3.8 seconds with Sport Chrono Package
Top track speed – 179-182 MPH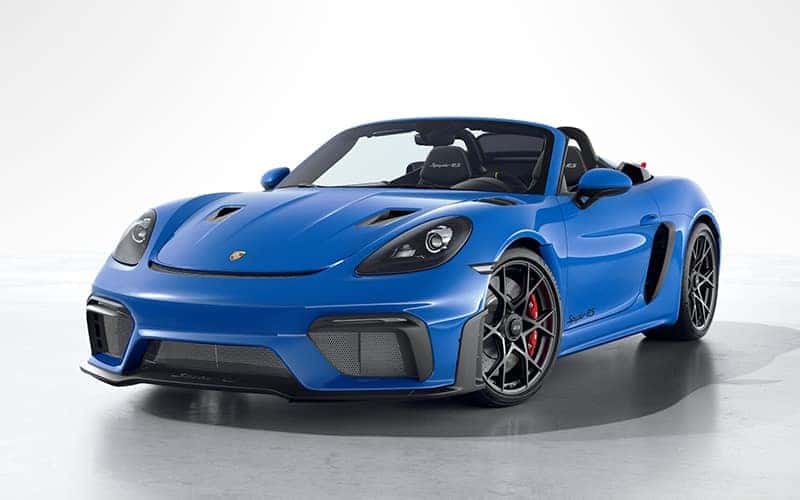 718 Spyder RS
Starting at $160,700 MSRP
4.0-liter Naturally Aspirated 6-Cylinder Boxer Engine
493 Horsepower | Rear Wheel Drive
0 – 60 MPH in 3.2 seconds
Top track speed – 191 MPH